4 Keys to Hearing God's Voice
Leo and I just returned from a wonderful time of ministry in the United Kingdom. Hundreds of people were registered for the conference and had driven in from all over the country, so they came hungry and ready to receive! It was an honor to share on dream interpretation as well as the ministry of angels. And then on Sunday morning, the host pastors asked if I would share on how to hear God's voice.
Obviously, if we only talk to God, and never take the time to listen to His response, we are not cultivating a very personal relationship with Him. Monologues don't lead to intimacy, and prayer is way more exciting when God does most of the talking!
Ecclesiastes 5:1-2 gives us an interesting perspective on this: "Guard your steps as you go to the house of God and draw near to listen rather than to offer the sacrifice of fools; for they do not know they are doing evil. Do not be hasty in word or impulsive in thought to bring up a matter in the presence of God. For God is in heaven and you are on the earth; therefore, let your words be few."
That seems pretty clear, yet what would "drawing near to listen" actually look like in our everyday lives? We don't want to be foolish and waste our audience with the King, so how do we turn our one-sided prayers into a life-giving conversation with the Creator of Life Himself?
Based on the passage of Scripture in Habakkuk 2:1-2, we then explored how hearing God's voice is as simple as quieting yourself down, looking for vision, tuning to spontaneity, and writing. Condensed even further, we could sum it up in four easy-to-remember words: Stop, Look, Listen, Write.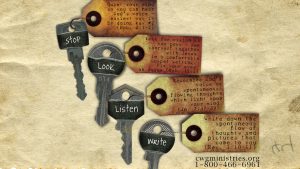 For anyone who's been through my training on Everyday Angels, you know I teach that the same keys we use to hear God's voice are what we use to hear our angels too. God is Spirit in the spirit realm, and angels are spirits in the spirit realm, so we understand that in order to engage that spiritual world, we simply use our spiritual senses.
It was fun to share Dad's life message with some of my own personal stories and examples. If you need a refresher on how easy it is to hear from heaven through two-way journaling and vision, definitely check it out, and join us for the meditation activation after the teaching as well. The testimonies at the end are powerful too!
Stay Connected
We also invite you to "Like" the teaching video, Comment on it, and Share with your friends! You are also welcome to subscribe to our Glory Waves YouTube channel as we've got some new short videos soon to be released. We've been working on a project to give you quick Dream Keys tips that help you easily implement the principles of decoding your visions of the night. We'll be posting them weekly over the next few months, so definitely stay connected so you don't miss out!
Prayer Power
This week we are ministering at Global Awakening and can't wait to equip their first-year students in dream work and partnering with the angelic realm.
Next week we fly to Taiwan where Leo and I will be teaching at back-to-back events. Not only will students locally in Taipei receive the ministry, but the messages may also be broadcast into mainland China.
We are so grateful for your intercessory support, agreeing with us for open doors, protection and favor, anointed training and life transformation for all those who participate. May everyone experience ALL Holy Spirit has for them with sacred supernatural encounters during the day, and at night while they sleep.
Thank You, Father, that intimacy is the desire of Your heart, and we were created for 24/7 communion with Heaven. We purpose by Your grace and divine power to live out of continual awareness of Your kingdom, and oneness with Your Spirit… in Jesus' name we pray… amen and amen!
Read more about visions here!