Angels at the Dentist + New Podcast & Upcoming Events
Prophetic Podcast
This week I had the pleasure of being hosted by Zoey and Jenna on their prophetic podcast, The Table. I met Zoey in New Zealand when she attended an Everyday Angels event on our most recent ministry trip Down Under. I am so proud of her, because since then she has been putting into practice everything she learned, partnering with angels, and even teaching others how to do the same!
When it comes to the sacred supernatural, these two Wonder Women of God get it, and they are living it. We had an incredible time sharing together, and the best part is, YOU get to listen in! From hearing about the day Zoey's life changed at our workshop, to the day angels helped a dairy farmer round up her cows (!), we discussed all things angels and how God intends for them to be part of our everyday lives.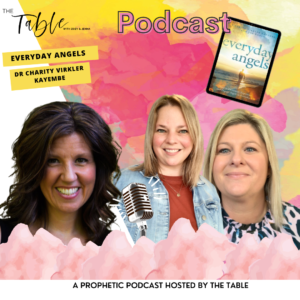 Listen in on our conversation here!
An Angel at the Dentist's Office
Another lovely student, Katharina Adkins, sent me the following testimony about how angels helped her get through a root canal at the dentist, and also a friend's funeral. Scripture tells us that angels are to minister to us (Matt. 4:11). God designed them to serve and bless us (Heb. 1:14). So what might that look like in your everyday life? Get a vision for the endless possibilities with Katharina's story below. Enjoy!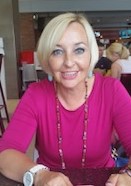 "In the dentist office, I had to wait for the doctor to tell me what was wrong and what needed to be done. He explained the procedure, and all I was thinking at first was, "Oh no, a root canal."
So while the dentist was getting ready, all of sudden I saw one of my angels dancing in front of me. I had to laugh so much! He is so funny all the time, and it looked so funny! So the dentist kinda looked at me weird like what is wrong with her.
It was so hard for me to stop laughing, so finally I told my angel to stop! Well he did, but then he started moving the chair that the dentist was sitting in (the chair had little rollers on the bottom) while he was reaching for the anesthesia, just to play around.
Then the dentist numbed my gums to give me the anesthesia, and while he was doing all of this, including working on my root canal, the angel was massaging the dentist's scalp!! The dentist was so relaxed! I felt nothing!! No needles, no pain, nothing! The best root canal ever… with the assistance of one of my angels! I just loved that day!!
I'm still thinking about my trip to the dentist office! I will never forget this, he always makes me laugh! Then a week ago I had to go to a funeral, and on my way out, my angel started smiling and was all happy! I told him to be a little more serious, as we just left a funeral home, but he was all happy! So I asked him what he was so happy about. He told me that my friend is in the best place he could ever be, in heaven!
I'm so glad that I'm able to interact with my angels! They have really been assisting me in so many ways! Thank you SO much for all of your teachings about angels. I learned so much from you!!"
Wow, we don't often hear people say after a dentist appointment, "I just loved that day!" That is a testimony, and such a fun example of how God wants to use His angels to move us out of fear and into faith, out of anxiety and stress and into peace and joy in our everyday lives. Whatever you've got going on today, you're not facing it alone. God has sent His angels to be with you and to bring the presence of heaven into your world.
But don't just take my word for it. I encourage you to pray and ask the Lord what He would like to say to you about His heavenly hosts. Ask Him if He wants you to learn more about angels and His design and purpose for them in your life. Ask Jesus how He wants you to partner with His angel armies in bringing Heaven to earth, then act on what He reveals. We have so many upcoming Everyday Angels events to equip you, so choose your level of engagement and take your next step into the sacred spiritual dimension.
Upcoming Events – You're Invited! 
Everyday Angels in Niagara Falls – One of our few IN PERSON events this year is happening next month! The workshop is being hosted by What's the Point Church so registration is free and you can get all the details on our website here. We are going to have a lot of fun and would LOVE to have you join us!
Sacred Supernatural Zoom Course – Beginning Wednesday, November 3rd I'm partnering with London School of Supernatural Ministry to share a very special combo class on Exploring the Sacred Supernatural. We will have six weeks of live and interactive sessions with Q&A's, dream interpretations and angelic activations. This is a paid event and you will receive the recordings in case you miss a session. Find out all about it here!
Open your spiritual eyes to the amazing unseen world of angels, and start experiencing them today!