Who Should Expect Angelic Ministry?
Last week I had the privilege of being interviewed by Dr. Candice Smithyman on her live TV show, Glory Road. We streamed it on our Facebook page, but if you didn't get a chance to see it yet, you are welcome to watch the 40-minute video here.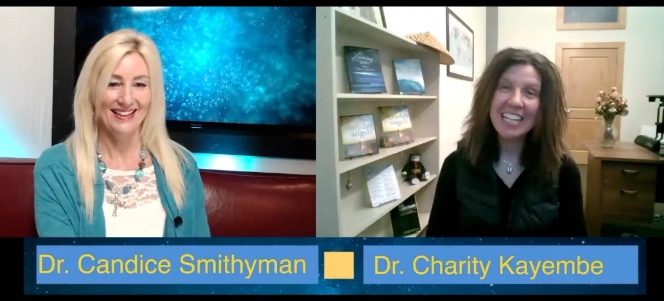 Dr. Candice asked several insightful questions on the topic of Everyday Angels and we explored a key revelation the Bible makes abundantly clear: Angels are for everyone. We might think only pastors or prophets interact with angels, and mistakenly assume that happens exclusively in "holy" places like church. We see an example of this in Luke 1 where the angel Gabriel converses with the priest Zacharias in the temple (see Luke 1:1-25). So yes, it IS true angels minister to our priests and pastors and they are definitely with us when we are at our places of worship.
But that was only the beginning. Then we see Gabriel showing up at Mary's house. Mary wasn't a priest or a pastor; she was just a teenager. And she wasn't in church. This shows us that angelic interaction is not just for adults nor is it reserved for "professional ministers". No, Mary proceeded to have a revelatory back and forth conversation with Gabriel, just as Zacharias had done, demonstrating that angels minister to us in our homes as well (see Luke 1:26-38).
We see angels are for both the old and young; they are with us at church and they are with us at home. Is that all? Next, we find angels showing up and delivering God's message to the shepherds while they were watching over their flocks at night (see Luke 2:6-16). So angels minister to us while we're on the job too. Isn't that encouraging? Truly, it is outside the four walls of our church that we need their assistance the most!
And let's not forget Joseph, Mary's husband. We know he received angelic ministry too. And what is most significant about his encounters with angels? They happened while he slept. We recently looked at the series of dreams that saved Jesus' life. God downloaded heavenly revelation through Joseph's dreams four times in Matthew 1 and 2. Significantly, Scripture records that three of those four times it was an angel who ministered God's prophetic direction to Joseph while he slept. 
We understand then that in order for God's angels to guard us in ALL our ways, as His Word promises they do, that means they must be with us at ALL times (see Psalm 91:11-12). At church, at home, at work, at school. Wherever we are, they are with us and watching out for us, because they are God's ministering spirits sent to render help and service to those who inherit salvation (Heb. 1:14).
Everything God did in the Bible He wants to do in our lives as well. If we are older ministers in church, or younger believers at home, whether we are male or female, at work or at school, awake or asleep… angels are with us! These things were written as examples for us; they are prophetic promises showing how God desires to minister to us. May we be open to receiving His blessings, direction, protection and revelation however He sends them, whomever He sends them through.
Thank You, Lord of Hosts, for Your heavenly hosts! We are so grateful that You and Your mighty company of Heaven are always with us, always watching over us, always caring for us. Thank You, Father God, that You've always got our back and that we are never alone. In Jesus' name we pray… AMEN!
Want to learn more?
If you want to discover what the Bible says about angels and how you can receive their ministry just like Zacharias and Mary and Joseph and the shepherds, grab a copy of the DVD package or deeply discounted download package.
Find out how to get your free bonuses and explore the resources we've created to equip YOU to step into the sacred supernatural for yourself today!
---
Road image courtesy of dan at FreeDigitalPhotos.net