Dr. Charity Kayembe shows you how to hear from Heaven every night for wisdom, revelation, guidance and comfort. Charity has been listening to the Lord through her dreams for most of her life. Holy Spirit has given her some exciting and unique revelations about what He wants to do in our lives through our dreams, and you are invited to experience this cutting-edge teaching.
"God speaks again and again, though people do not recognize it.
He speaks in dreams, in visions of the night,
when deep sleep falls on people as they lie in their beds.
He whispers in their ears…" (Job 33:14-16 NLT)
Just look at some of the fascinating topics you will be exploring
Why you, the dreamer, are the most qualified interpretation expert of your dreams
How interpretation is not a special gift bestowed on a few; it's a skill anyone can learn
How quantum physics correlates with dream work and our spiritual walk
Why dreams aren't weird, we just need to learn the language they're speaking
How God gives creative solutions, strategies and inventions in our dreams
The prophetic nature of children's dreams and how to understand their unique symbolism
The potential blessing of nightmares and recurring dreams, how God speaks through them, and what to do about them
You will never look at your dreams the same way again!
"Charity does an excellent job of walking us through the various kinds of dreams that one may have from the Lord. She explains how there is a symbolic language to be learned. It varies for every person, as the same symbols often mean different things to different people. If you learn this language, you'll be able to discover powerful and meaningful messages and insights from God.
Charity gives many examples of messages communicated in dreams, both from her own experience and from those of her students, as she has taught and worked with this material for many years. This is so helpful! What a joy to see the next generation, like Charity, so full of godly values and principles and truly going full on after the life of the Kingdom.
I was greatly challenged and motivated to focus again on the importance of dreams from the Lord. It helped me to change some things. I now prepare my heart before going to sleep at night, putting paper and pen beside my bed. I take care to see that my final thoughts for the day are biblical and wholesome instead of going to sleep after watching the evening news, which is full of problems and disasters. I am asking God in faith to speak to me more than ever in dreams and revelations in the night.
And do you know what? He's doing it!"
Dr. John Arnott
Interested in booking me for your event?
I would love to be a part of your conference, church service or school of ministry training.
"We recently attended the Orlando Dream Workshop by Dr. Charity Kayembe. What a wonderful and amazing experience! The material discussed was mind-blowing. If you are looking for a greater understanding with regard to what dreams are about, this conference is one you will not want to miss! We have been so blessed by this seminar and plan on attending it again if in our area!! "
Shirley Camplin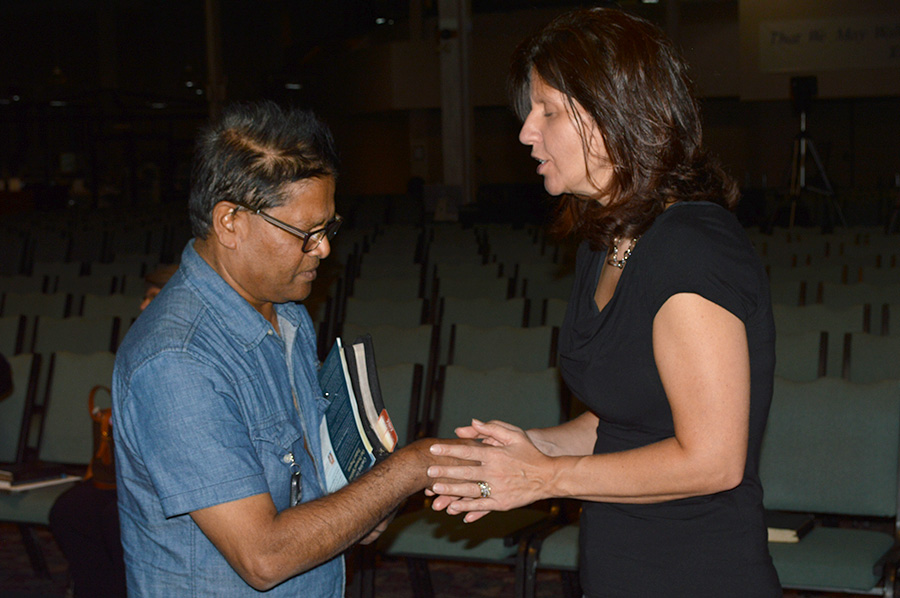 "What an awesome and blessed event that was! I was so very thankful to have attended in Toronto. I sincerely thank the God in you Charity for the wonderful, wonderful teachings. When I got home, I slept and woke up with two dreams. It took a little while, but within a couple of hours I was able to interpret BOTH of my dreams.
With the first dream, the interpretation I received caused me to pour my heart out to Jesus and I was in tears, but I was finally and truly able to forgive my husband for his abandonment (something that God had been telling me to do since June through journaling). The difference is, since June, I was trying to forgive with my mind, but after my interpretation, I was able to forgive with my heart! Woohoo!
The most exciting news is when I go back to my church I can tell the members that they don't have to go through our Apostle or senior pastor for an interpretation (something we have recently been doing), but that they are able to interpret themselves! So exciting! You have no idea how thankful I am and how much I truly appreciate you!"
Jeniece Taylor